You've arrived in Korea, exhausted and excited. The next step is to head to the dorms! It can be scary navigating a new place, but no worries. I gotchu. Read on for directions on getting to the dorms and general navigation tips!
How to get to school from the airport
There are three main ways to get from the airport to school: subway, taxi, and bus.
Subway
Taking the Airport Line from Incheon Airport is the cheapest way to get to school (₩5,000). However, I would recommend this only when you are flying on trips during the program because there is a lot of luggage dragging and walking for this route-not really ideal for big luggage.
From the airport, follow signs to the

Airport Line

.
Ride the train to Hongik University Station (

Light green colored

Line 2, 'Hongdae Ipgu'). From there, follow the subway station signs to line 2 and take the subway heading towards Sinchon (the sign should have the the major stops Sinchon or City Hall listed).
Get off at Ewha Women's University Station (Edae) and take exit 1,2,3 or 4. Walk away from the main, wider road once you exit the station (there should be an Artbox, Teenie Weenie, and a mall called APM.
Head in that direction). You will be heading slightly uphill before heading slightly downhill where you will see Ewha's main entrance.
Follow these pictures to get from Edae to the dorms (captions have directions):
*Ewha's entrance is closed to males after 10pm. You will have to get off at Sinchon Station (slightly further), where through the U-Plex (department store) exit, you will head down the main road towards Yonsei University.
Head past Severance Hospital
Pass the pedestrian bridge
Pass the funeral home
Pass Coffee Bean and when you see a small restaurant serving ginseng chicken soup, turn up there to find the dorms.
**The Airport Line can also be taken to Gimpo Airport.
Taxi
Taxi is the most comfortable, but most expensive option. It costs ₩55,000 (flat rate unless you take a deluxe black taxi which will cost more) from Incheon but the taxi driver can take you all the way to the front of the dorms.
Tell the driver to go to SK Global House (연세대학교신촌캠퍼스SK국학제학사 'yonsei-day-hak-kyo sinchon-kem-puh-seu SK gook-jey-hak-sa') or if they don't get it, describe it as the Yonsei University East Gate dorms (연세대학교 동문 기숙사 'yonsei-day-hak-kyo dong-moon ki-sook-sa). Or better yet, just copy down the Korean and show it to them.
Bus
Taking the airport Limo Bus is by far the most economical AND comfortable way to get to the dorms. I would definitely recommend this one. One trip costs ₩10,000.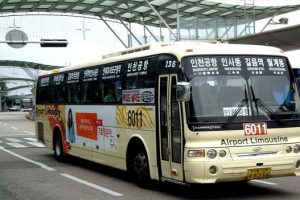 Buy your bus ticket at the Bus Ticketing Office. You can buy it from multiple spots at the airport (indoor: Exit 4 and 9; outdoor: Exit 4,6,7,8, 11, 13, and 9c). Tell the person you want to get on bus 6011 to 'Edae Back Gate' or 'edae ho-moon.'
Get to the first floor of the airport (you should be there already when you exit customs) and head to bus stops 5B or 11A.
Board bus 6011 and tell the driver you are getting of at Edae Back Gate. Don't get off the Yonsei Unversity one. You'll be very far from the dorms if you do.
For SK Global House, there will be signs to lead you to the lobby. For I-House, also enter the SK Global House lobby. You should see a clear glass lobby door and once you exit through that there should be a staircase and an elevator outside. Take the elevator up if you have heavy luggage and you will see 'International House.'
The bus stop to the dorms always confuses people so here are some pictures and directions (in captions) to help
*** For those not heading to Yonsei, the airport bus can be taken to other spots too and you can even pick accommodations according to your ideal stop when traveling in Seoul! Here is a link to other stops: ☆
T-Money Card
The T-Money Card is the main transportation card in Seoul and can be used in different cities (such as Busan and Jeonju) in Korea as well. T-Money cards are available for purchase at all convenience stores and there are lots of cute designs for them too, from idols, to Pokemon, to Line and Kakaotalk Friends with seasonal designs. They can be recharged at convenience stores or at subway stations.
Our Yonsei ID card also acts as a transportation card but it gets a little confusing when you ask people to charge the card for you at convenience stores and it cannot be charged at convenience stores outside of Seoul, just at subway stations. I would recommend getting a T-Money not only for convenience but as a useful keepsake.
Buses
Many people on the program tend to stick to the subway system here in Seoul because it's easy to navigate and has lots of English but not all the cities in Korea have subways and buses can lessen your walking time! It's easy to navigate the bus system here and with practice comes perfection and familiarity.
Buses in Seoul are divided into three colors: green, blue, and red. Green buses are neighborhood buses and stay within certain 'gu's and blue buses can cross into further districts and across the river. Red buses are long distance buses to cities surrounding Seoul.
Lucky for us, Yonsei University has tons of bus stops around it that will get you to practically anywhere. You will find yourself using the two bus stops (both named Edae Back Gate but in different directions) right outside the dorms the most. My favorite buses were the 7737 (for Hongdae) and the 470 and 472 buses which got us to the Gwanghwamun and Garosugil areas across the river.
To navigate buses, it is ideal to learn how to use Naver Maps (which in my opinion, is a lot more clear than Google Maps in functioning and directions even if Google Maps worked in the first place in Korea). Here are step by step directions.
Download the application.
This is the homescreen of Naver Map. It holds your search history which is really convenient. The top-most part is where you enter your starting point and ending point. To switch them, just press the button with the little arrows going up and down. Usually you would be starting from the dorms which will can be entered as 연세대학교신촌캠퍼스SK국학제학사. If you're not starting from there, just tap the blue button seen in the second picture which will target where your location is and start you from where you are.

3. After selecting the write location from the search results, you can choose between the bus, car, bike, and walking icon.

For this example, I am heading from SK Global House to 1976 Shabu Shabu and I have selected the bus option. Naver will give you many options. I selected the second one where I will board the bus 272 at Edae Middle School and transfer to bus 7011 at Sinchon Rotary before disembarking at Sangsu Subway Station stop. The first picture also shows how much each route will cost and the time. For the one I chose, it will take 33 minutes and ₩1,200.

When you press on the route you wish to take, the app will take you to the second picture. The currently blue selection will lead you to the station, the next is the bus directions, and so on. The app also tells you how many minutes the bus is coming in (in the picture it says 1 minute and 4 minutes). To know where you are heading, simply press the little target button in the top left corner of the third picture. First tap will locate where you are with a red, second tap will create a flashlight sort of line from the red dot showing which direction you are facing or heading. A great way to check if your bus is going where you want it to be is to keep the app open and occasionally tap the target button. When you get to what you think is the right bus station, remember to check if the bus is going the right way by looking at the bus lines posted there!

4. For walking, simply press the walking option and follow the numerical directions given by the app. In this example, I am heading from SK Global House to Edae Subway Station Line 2.

Buses cost ₩1,200 and the subway costs ₩1,500. Transfers between buses, lines, or between bus and subway within 30 minutes will incur no extra cost.